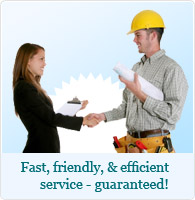 Plumber Washington DC » Articles » Leaky Water Heaters
How to Detect and Diagnose Water Heater Leaks
Is water pooling around your water heater? If so, a loose valve or corroded tank may be seeping out water. Leak detection in water heaters may sometimes prove misleading as dripping heaters not always indicate a leak – and may instead point to condensation as cold water fills tank and then drips down. If this problem is encountered during winter or when the tank is first filled but disappears as cold water heats up - condensation is the source.
But when a leaky water heater is not a result of condensation, other parts of the unit must be checked. Follow Plumber Washington DC guide on how to detect and diagnose water heater leaks:
Temperature pressure relief valve (TPR)
A faulty TPR valve may be leaking out water or a perfectly working TPR valve may be releasing out water when sensing excess pressure in tank. Excess pressure may result from:
1. Very high set temperatures
2. Incoming water supply of strong pressure
3. Valves reducing water supply pressure to prevent water expansion in tank
A leaky TPR valve requires immediate solution - otherwise excess pressure may lead to the tank's explosion. Consult your local plumber for the right course of action.
Drain Valve
Defective drain valves cause leaky water heaters. Tightening or replacing this valve will solve the problem and stop the leak.
Vent
A gas unit vent may be obstructed and cause a leaky water heater. After turning off the unit, cleaning the valve may restore your water heater back to working, non-leaking condition.
Heating Element Gasket
Heating element gaskets on electric water heaters may cause leaks. Replacing gaskets should solve the problem. First turn off electrical power and water supply to the water heater. Drain water from the water heater before replacing the faulty gasket. Because of risks involved in such procedure, Plumber Washington DC recommends people to call in their local plumber to get the job done.
Water Pipes
Loosely connected piping and fittings joined to water heater may be responsible for the leak. Start tightening the fittings from which water trickles out. If water is still escaping despite tighter fittings, you will need the replace them altogether.
Corroded Tank
Tanks have a limited lifespan of about seven years. Corroded tanks can cause leaky water heaters. Replacing old units with new heaters is the only option available.
Our professional plumbers in Washington DC and North Virginia will be more than happy to either consult your do it yourself solution or take over the repair completely. Leaky water heaters can be solved with the right repair.

Additional service areas:
Northern Virginia (NoVa) - Plumber Fairfax county, Plumber Loudoun County, Plumber Prince William County, Springfield, Arlington, Alexandria, Annandale
Maryland (MD)