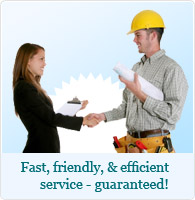 Plumber Washington DC » Articles » Freezing Pipes
How to Repair Freezing Pipes
Imagine returning home after work to find the kitchen and living room flooded, and your television set and computers in ruins. Freezing pipes are one of winter's most common plumbing problems. Frozen pipes demand express repair before they split open and cause expensive water related damage as described above. Pipes and fittings exposed to cold weather or pipes that run along exterior walls or crawl spaces are vulnerable to freezing when temperatures drop.
Freezing pipes are best prevented by avoiding this plumbing emergency all together. Proper pipe insulation from foam rubber sleeves to fiberglass is your first line of defense against frozen and burst pipes. Acting like electrical heating blankets, electrical powered heating stripes can be used to wrap pipes running through unheated areas. These heating strips provide heat to problematic sections of the pipe, and minimize chances of freezing. Hot water lines can also freeze during winter, and therefore require insulation just the same as cold water pipes.
A sudden reduction in water pressure may act as your first signal that pipes are beginning to freeze. If you ignore this red flag and allow pipes to freeze completely, inside water will turn to ice and expand in pipe. When water expands beyond the line's capacity, the pipe will split open. If you can catch freezing pipes before they turn into burst pipes – you are in great luck. Close water supply specific to the freezing pipe. If you cannot isolate the shutoff valve to the pipe, just close the main water supply to your home. Turn on faucets to let out melting ice and excess steam.
Plumber Washington DC warns against applying direct heat on the frozen section. Heating and melting too quickly trapped ice into boiling water may also crack open pipe because of the resulting steam pressure. As a guiding rule do not let pipe become too hot to touch. Instead, employ one of the following methods to thaw right pipes:
Take rags and dip in hot water. Wrap hot rags around the frozen section. Keep rags hot by pouring more hot water as they cool down.
Wrap a heat stripe around the frozen section of pipe.
Use a hairdryer on the frozen section.
Space heater directed to frozen pipe.
By catching early freezing pipes, and applying your choice of method to thaw gently frozen sections - may save you from burst pipes, plumbing floods and slab leaks. Advanced pipe insulation will save you from frozen pipe hassles all together.

Additional service areas:
Northern Virginia (NoVa) - Plumber Fairfax county, Plumber Loudoun County, Plumber Prince William County, Springfield, Arlington, Alexandria, Annandale
Maryland (MD)