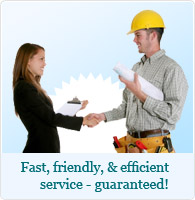 Plumber Washington DC » Articles » Leaky Basement Foundation
How to Detect a Leaky Basement Foundation
Winter is heading our way. Before temperatures drop, examine your Washington DC basement for faulty foundation to avoid the most common plumbing emergency during heavy rain or snow spells – basement flooding.
Foundation Troubleshooting
Leaky basement walls may be wrongly diagnosed as one-time occurrences in dry weather, and therefore may not be provided with the right repair. Moisture and leaky foundation problems will not go away if ignored - they will only worsen until one, rainy day you may find your basement immersed in dirty rain water or melted snow. Foundation leaks and basement flooding can devalue homes and influence buyers to stay away from such properties. Avoid costly repair by calling over your local plumber Washington DC to fix quickly moisture and leaky foundation problems before your basement fills up with unclean water.
Early leak detection and repair of troubling basement foundation is easy with the following warning signs:
cracked walls & floors
damp spots on walls that expand with every rain fall
white chalk or mold on basement walls
musty odor
As approximately 95% of all basements will experience a problem with water penetration this winter, detecting one of the above signs in the basement should not keep you second guessing. Call over a foundation contractor and local plumber to solve fast your faulty basement foundation. Installing a sump pump in your basement is your first line of defense against destructive water penetration. Make sure that your sump pump and back up device are in good working condition to pump out water should your walls and floors leak in rain water.

Additional service areas:
Northern Virginia (NoVa) - Plumber Fairfax county, Plumber Loudoun County, Plumber Prince William County, Springfield, Arlington, Alexandria, Annandale
Maryland (MD)