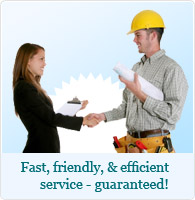 Plumber Washington DC » Residential » Sump Pump
Sump Pump

It has been estimated that about 95% of all basements will experience a problem with water penetration. Basement flooding is most often caused by water built up in the soil that penetrates your basement. Installing a sump pump in your basement is your defense against flooding and thereby against plumbing leaks and dampness.
Sump Pumps
A sump pump removes accumulated water from the sump basin (a pit to collect groundwater). When the water reaches what is called 'the critical level' in the sump basin or tank, the Sump Pump Float Switches activate the sump pump, which in turn begins to pump out water, through a pipe that leads outside and away from your foundation.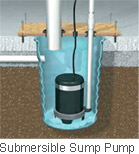 There are two types of electrically powered sump pumps commonly used:
- An electric pump that stands upright, with a motor a few feet above it. Ideal for basements in need of frequent water drainage.
– Electric pumps installed in ground and designed to work underwater.
Common Sump Pump Failure
Common causes for a sump pump failure that our expert plumbers detect and progress to repair, supply, replace and install:
Power failure/ electrical power outage
Burned pump
Pump clogged with debris
A broken impeller or drive shaft
Faulty installation of pump
Float Switch problems
Backup Supplies
If you live in areas with frequent power cuts during the winter months, then you probably already own the following backup supplies. Regardless of power cuts, always take into account that like any other mechanical device, a sump pump can break or simply reach the end of its life span (of about 7 years). Have a back up system installed to prevent basement flooding, in cases of sump pump failure, or where there is no sump basin.


Supply
Type
Function
Backup sump pump
Water Powered emergency sump Pump
A support pump that can work on its own power should primary sump pump fail
Floor Sucker Pumps
Installed in areas without an actual sump basin. Effectively removes water from roofs, floors and ground
Battery backup sump pump system
Sealed battery
Maintenance-free
Automatically charges itself when power in the house is on. Ensures enough power to keep sump pump working for up to 3.5 hours
Unsealed battery
Automatically charges itself when power in the house is on. Ensures enough power to keep sump pump working for up to 7 hours



Additional service areas:
Northern Virginia (NoVa) - Plumber Fairfax county, Plumber Loudoun County, Plumber Prince William County, Springfield, Arlington, Alexandria, Annandale
Maryland (MD)