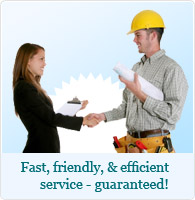 Plumber Washington DC » Services
Plumbing Service
Plumbing problems can range from minor annoyances to serious concerns, but whatever your problem is, you don't have to worry.

Whether you're dealing with inconveniences like leaking taps, toilet flooding, or a lack of hot water, or suffering from issues like burst pipes, dangerous gas leaks, or considerable water damage, you can trust Plumber Washington DC to effectively resolve the problem in no time. Our products, services, and prices are without peer in the plumbing industry.
Full Service Plumbing
Our elite team of Washington plumbers are trained and qualified to take on plumbing jobs of all kinds. Below is a list of our plumbers' services:
general drainage cleaning and plumbing repair
outdoor drainage clearing for pipes blocked by root intrusion, and repair for damages from bursting roots
plumbing repair, replacement, and installation of plumbing pipes
plumbing repair, replacement, and installation of plumbing fixtures (toilets, showers, bathtubs, sinks) and their parts (bidets, Jacuzzis)
plumbing repair, replacement, installation, and maintenance of water heating systems (boilers, water heaters, water radiators)
plumbing repair and maintenance of garbage disposals
plumbing installation of water filters and fire sprinklers
gas line placement and repair of hazardous gas leaks
We are on call 24/7 and serve every area of Washington, D.C. Feel free to call us in case of plumbing problems or emergencies, or to avail of our routine maintenance checks.
Our Commercial Plumbing Services

Do you have a business of your own? Ask us about our commercial plumbing services. We can assure you of high quality plumbing solutions, regardless of the complexity of your workplace's plumbing system.
Washington Plumbers services

If you're faced with a minor plumbing problem, you may opt for do-it-yourself plumbing over expert aid. Should you choose to do so, however, you'll need to have a thorough understanding of your home plumbing system, to avoid making your problem worse. We'll be more than happy to educate you on your plumbing system, and offer you various plumbing tips and information.
This information is critical even and especially in a plumbing emergency. Once you've availed of our emergency plumbing service, you should be able to locate and shut off your main water valve to prevent further water damage before we arrive to resolve the crisis.
Want to learn more about our full service plumbing company and what we have to offer? Contact us.

Additional service areas:
Northern Virginia (NoVa) - Plumber Fairfax county, Plumber Loudoun County, Plumber Prince William County, Springfield, Arlington, Alexandria, Annandale
Maryland (MD)