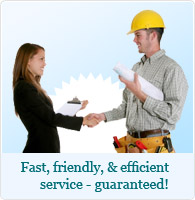 Plumber Washington DC » Services » Drains » Sewer Lines
Sewer Line Plumbing
Pipes with relatively wide diameters that run parallel to water supply lines make up the DWV (drain, waste, vent) system. This system is responsible for leading wastewater out of your home. Its drain pipes and waste pipes tilt downwards, letting gravity pull your waste down to the main sewer line. And in much the same way, your sewer line slants downwards to allow gravity to guide your waste to a sewage facility or a septic tank.
Sewer lines are also subject to common plumbing problems like leaks, clogs, and offensive odors. As such, they can also benefit from expert sewer repair, sanitary sewer line cleaning, and sewer line maintenance. Attaching PVC lining within sewer lines is a good preventive measure against leaks, and is one of many ways that we at Plumber Washington can reinforce your sewer line.
Other problems like root intrusion can completely block your sewer pipe. You can always try to clear the blockage using a pressurized garden house, but if that's not enough, we can lend you a helping hand. We have power augers, sewer drain cleaning tools, and other sewer cleaning equipment ideal for clearing stubborn clogs.
We advise you not to use radical clearing solutions like copper sulfate or similar chemicals without consulting us beforehand. These may clear clogs and even keep roots from growing back, but we first have to determine whether your sewer plumbing can withstand these potentially damaging solutions. Contact us for more information or to avail of our plumbing services.

Additional service areas:
Northern Virginia (NoVa) - Plumber Fairfax county, Plumber Loudoun County, Plumber Prince William County, Springfield, Arlington, Alexandria, Annandale
Maryland (MD)