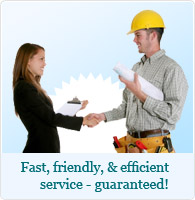 Plumber Washington DC » Commercial
Commercial Plumbing Service
Places of business require no less than impeccable plumbing services. Due to their complicated nature, commercial plumbing problems can only be resolved by truly dependable commercial plumbing companies.
We at Plumber Washington D.C are up to task. Our team of professional Washington plumbers are fully qualified and fully equipped to take on any commercial plumbing problem. Our collective expertise can guarantee that your particular problem will be dealt with quickly, effectively, and with little or no disturbance in your workplace.
Commercial Plumbing Tools & Services
Being familiar with the plumbing industry, we realize that though places of residence and business have similar plumbing objectives and demands, there can be a significant difference in the means by which they are achieved.

Regular plumbing tools, for instance, aren't enough to solve most commercial problems. Only sophisticated commercial plumbing tools, which were designed specifically to tackle these problems, can allow success. It is with these tools and our experience that we are able to render superior commercial plumbing services that can fill your every need.
Advanced Commercial Plumbing Methods
Aside from using the most advanced plumbing tools the industry has to offer, we also incorporate innovative methods that have proven to be highly effective in certain situations.

Hydro-jetting, which uses high-pressure water to do away with stubborn pipe clogs, is one of these methods. Another is trenchless pipe replacement, a technique which eliminates the need to dig when replacing and installing pipes. By using old pipes as paths to pull and install new ones, this method allows us to do our jobs without being a burden or a distraction to your people or your business.
Our advanced skill and techniques can guarantee the proper repair and installation of any commercial fixture and appliance, including commercial toilets, commercial showers, commercial sinks, and commercial pipes, among many others.
Washington Plumbers on Call
Don't wait for an emergency to avail of our services. Our team of Washington plumbers can inspect and maintain your commercial plumbing system to prevent plumbing problems and emergencies.
Contact us to learn what else we have to offer.

Additional service areas:
Northern Virginia (NoVa) - Plumber Fairfax county, Plumber Loudoun County, Plumber Prince William County, Springfield, Arlington, Alexandria, Annandale
Maryland (MD)