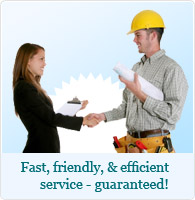 Plumber Washington DC » Services » Garbage Disposals
Garbage Disposals Installation and Repair
Garbage disposals are particularly useful and possibly essential appliances in numerous homes. However, since garbage disposal installation and repair takes some know-how in the fields of plumbing and electricity, handling their problems is best left to experienced professionals. If ever you require garbage disposal plumbing services, Plumber Washington's team is always available to serve you.
How Garbage Disposals Work
A garbage disposal, which is normally placed under a kitchen sink drain, grinds food remains that pass through the drain. Once the shredder in the disposal's grinding chamber has sufficiently ground the remains, its particles are forced down the drain by the disposal's impeller arm and plate.
Understanding the simple mechanics of your garbage disposal allows you to pay keen attention to its problems, and immediately call us, the premier plumbers in Washington DC, for a solution in case trouble does arise.
DIY Plumbing Work?
Can you solve garbage disposal problems yourself? Yes, but only if you have the requisite tools and know-how, and you've made extensive preparations. Even then, you're better off limiting yourself to minor dilemmas, and leaving more serious problems to experts like us. If you do decide to work on your disposal, though, remember this critical safety measure: turn off the power. You don't want it to start grinding while you work.
Cleaning Garbage Disposals
It's essential to keep your disposal clean to ensure that it continues to function, and to prevent clogs, bacteria formation, and foul odors. Your first step? Use tongs or pliers to fish out items that have been lodged in your disposal. The second? Clean the drain. You can do this by plugging the drain, filling the sink with 2-4 inches of water, unplugging the drain to let the water in, and turning on your disposal to flush down small food particles.
If you're already dealing with a clogged drain, it may be necessary to remove its trap before you can clear it. Use a pipe wrench to release the trap's fittings, remove the trap, and clear the clog when you find it. If you can't find it, try to clear the drain with an auger or plumber's snake. Of course, you can save yourself the trouble by getting us on the line, and having us clean your disposal and your drain for you. Our expertise guarantees fast, convenient, and affordable services that will not only fix your disposal problems, but prevent them in the future.
Washington Plumbing Guide/Service Provider
Once the dirty deed is done, top it off by freshening up your sink. Drop some citrus peels into your disposal, run some cold water, and turn it on. Remember, more of these garbage disposal tips are just a phone call away.
Contact us if you have any questions about garbage disposal repair, installation, or maintenance, or if you wish to avail of our plumbing services. Plumber Washington DC will gladly act as your online plumbing guide, and your dependable plumbing service provider.

Additional service areas:
Northern Virginia (NoVa) - Plumber Fairfax county, Plumber Loudoun County, Plumber Prince William County, Springfield, Arlington, Alexandria, Annandale
Maryland (MD)